Hall of Fame Members
PCCHA MEMBERS HALL OF FAME RULES & BIO FORM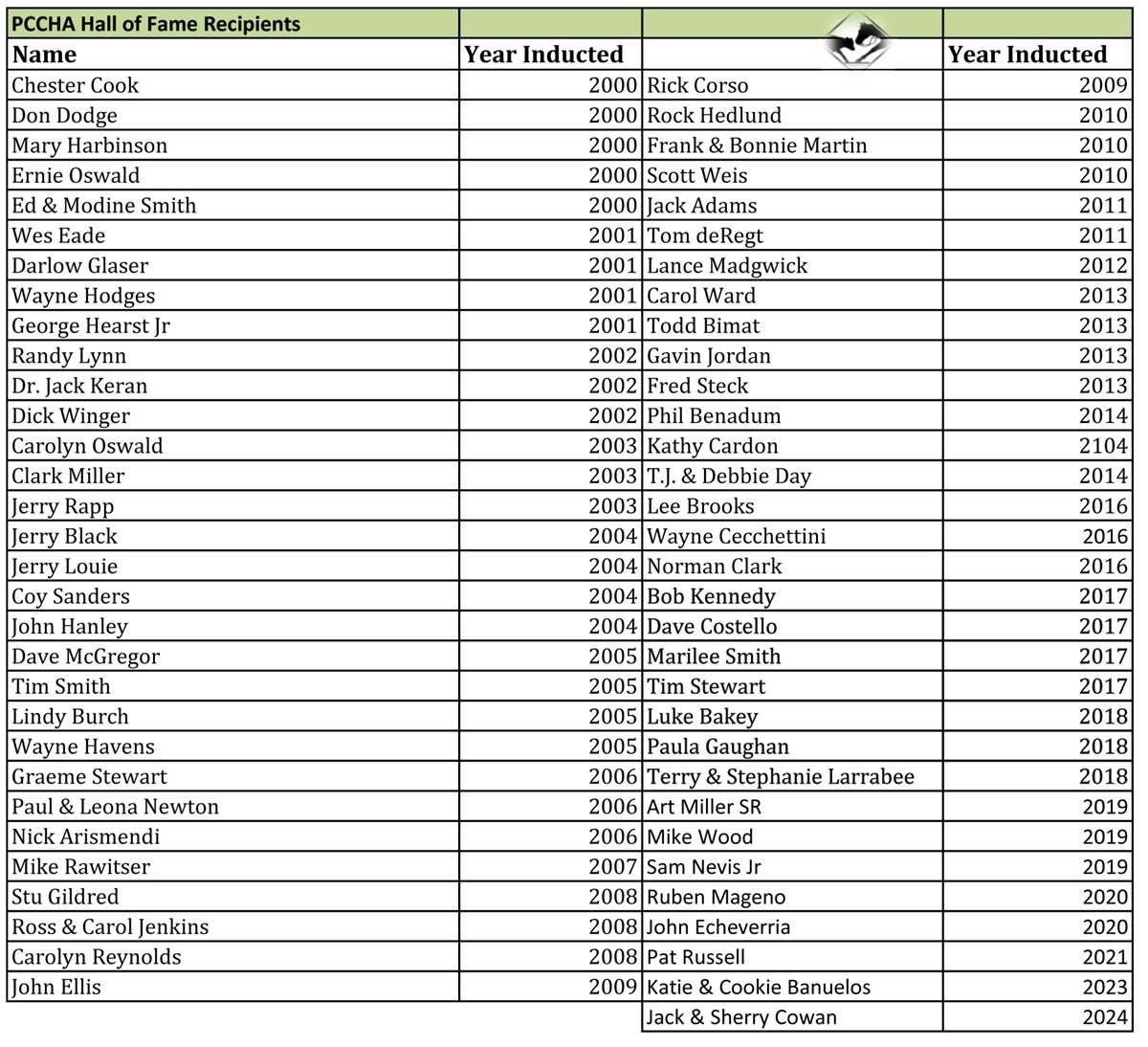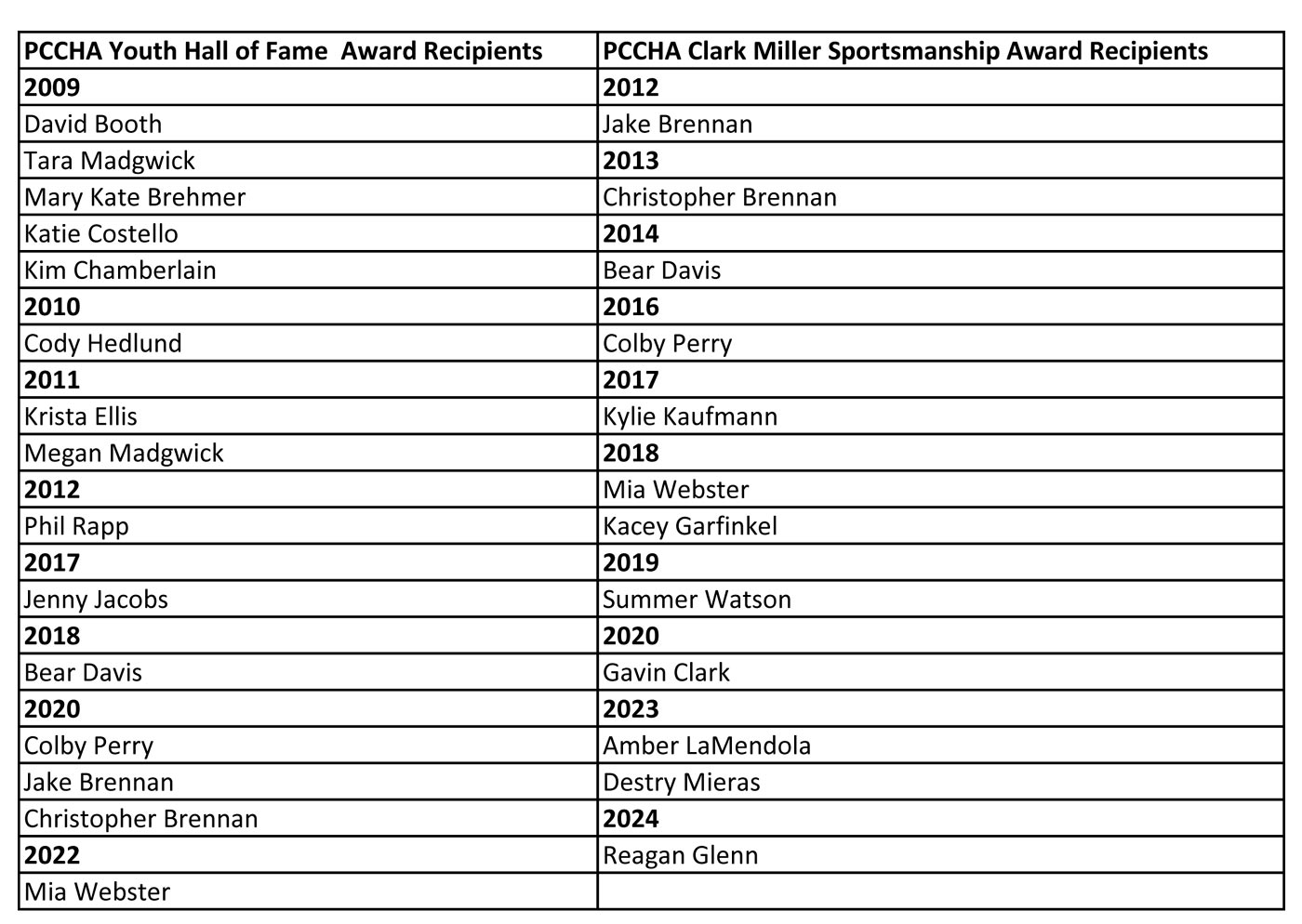 ---
Congratulations to the 2021 Hall of Fame Member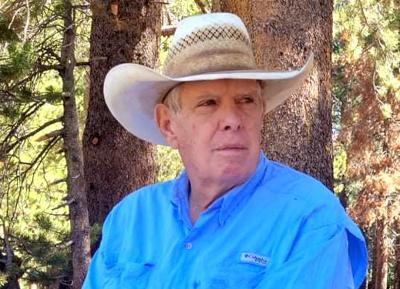 Pat Russell
---
Congratulations to the 2019 Hall of Fame Members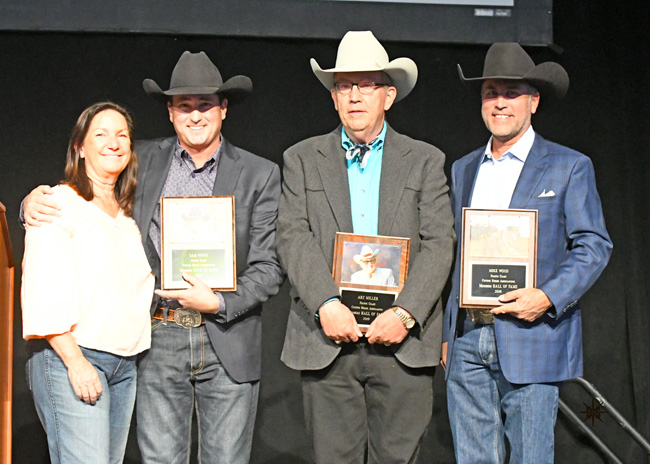 From left to right: President Kathy Cardon congratulating Sam Nevis Jr, Art Miller Jr for his late father Art Miller Sr, and Mike Wood
---
Congratulations to PCCHA 2018 Hall of Fame Members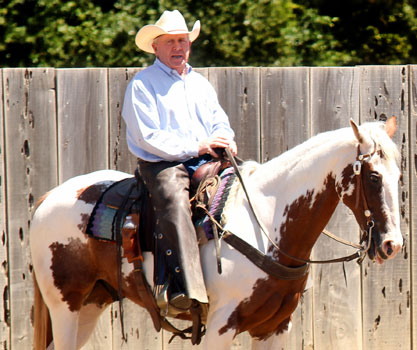 Luke Bakey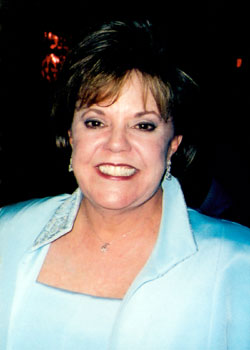 Paula Gaughan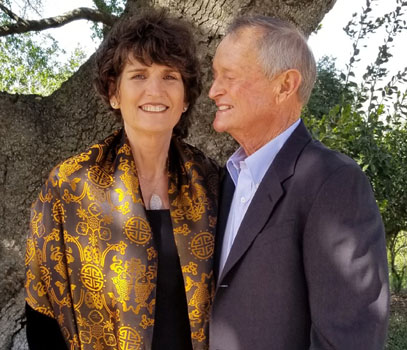 Terry & Stephanie Larrabee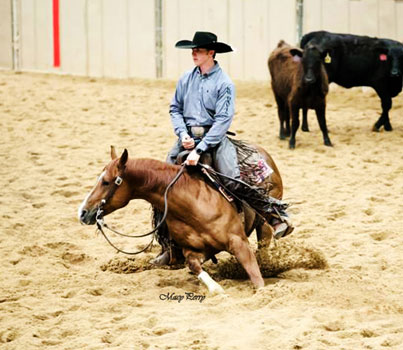 Bear Davis
2018 Youth HOF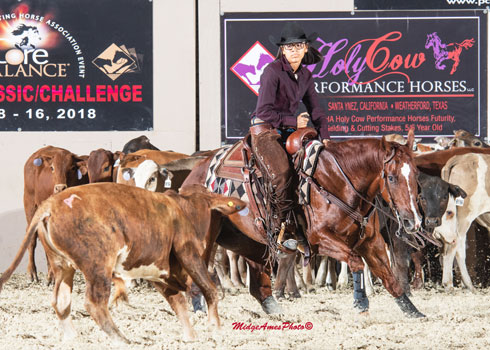 Mia Webster
2018 Clark Miller Sportsmanship Award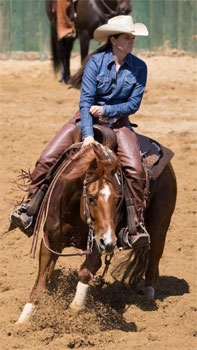 Kacey Garfinkle
2018 Clark Miller Sportsmanship Award
---
Congratulations to PCCHA 2017 Hall of Fame Members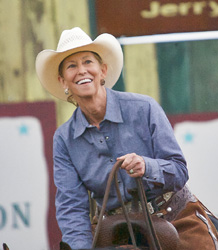 Marilee Smith
Tim Stewart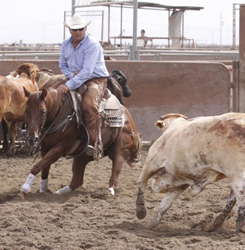 Dave Costello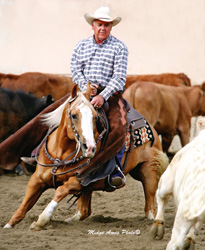 Bob Kennedy
---
Congratulations to PCCHA 2016 Hall of Fame Members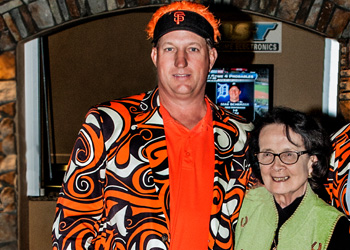 Lee Brooks
Wayne Cecchetini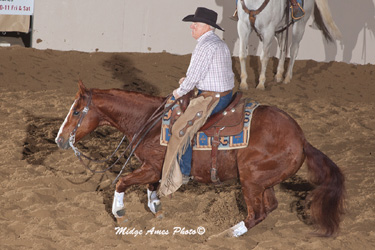 Norman Clark
---
Congratulations to PCCHA 2014 Hall of Fame Members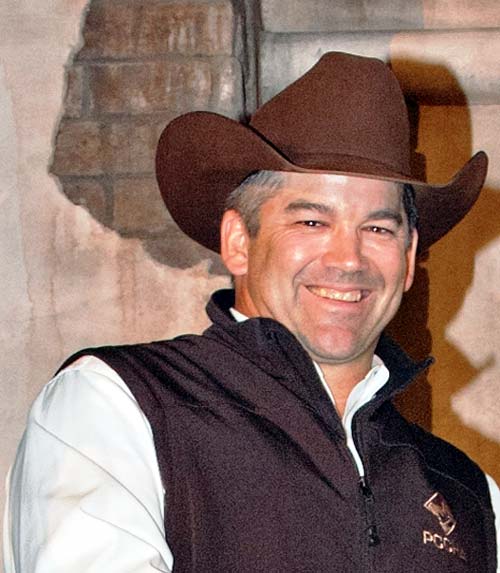 Phil Benadum
Kathy Cardon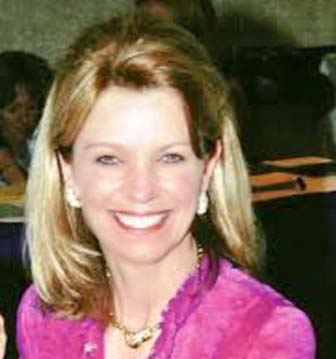 Debbie Day
---
Congratulations to PCCHA 2013 Hall of Fame Members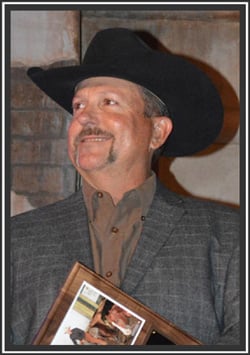 Todd Bimat
Todd has been riding cutting horses since the age of 9. He worked for the legendary Leon Harrel through High School and knew training cutting horses was what he wanted to do. Todd has been a champion of every PCCHA Open Aged Event and has won his share of NCHA Limited Aged Events. His customers and former employees have done so as well. Since the beginning, the PCCHA has always been in Todd's lifestyle. With over 30 years belonging to the PCCHA, Todd has served on the PCCHA Board and Committees since 1987. He is in the NCHA Hall of Fame and a recipient of the Dave McGregor Award. He wants everyone to know he is blessed with the support of his wife Erin and son Trent and that this is a great honor to be inducted into the PCCHA Hall of Fame.
---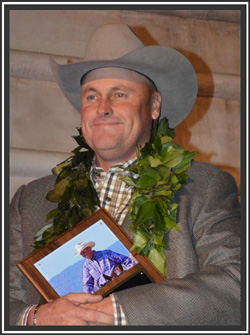 Gavin Jordan
Born and raised in Australia, Gavin headed to the USA in 1993 and is quite glad for his decision to move. And now, he never dreamt that he would be recognized in the PCCHA Hall of Fame. For the last 20 years, Gavin has had a voice in every big decision regarding the PCCHA for the betterment of its members. He served as the President of PCCHA in 2005, with eight years on the Executive Board, and 12 years as a board member. His long list of cutting accomplishments include holding the title four times for the NCHA World Championship without leaving west coast/PCCHA approved shows. In fact, emcee Tim Smith stated that when he was in Australia with Gavin, it felt like being with Elvis! Gavin is world-renowned! When asked about his most meaningful accomplishment, Gavin stated, "It's about the number of young "assistant trainers" who have gone on to become successful trainers. It started with Russ Elrod. Then Jason Taylor, Ben Royal, Chris Johnsrud, Ben Neasham and Trent Smith." Gavin states, "This is where I belong - being part of the Pacific Coast Cutting Horse Association."
---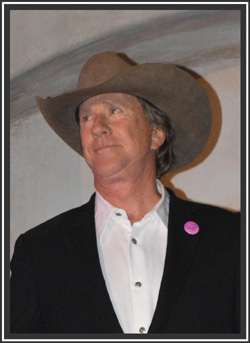 Fred Steck
Fred is a third generation Californian. The closest he and his family ever got to a ranch was their Thanksgiving vacations at the Alisal Guest Ranch (which they still visit every holiday to this day). Fred was introduced to the infamous cutting horse trainer Lonnie Weaver. Fred says he used to flop around in the cutting pen at events sponsored by the Vintage Cutting Horse Assoc. He moved to New York and when he returned to the west coast, bought the Latigo Canyon Ranch. Fred started training with Scott Weis and bought a horse named Hick Chickaroo, where he had his first win in the cutting pen at Carol Ward's show in Rancho Murrieta. Fred states that, "Although my cutting career has been more fun and frustrating than successful and accomplished; I have been successful at raising and educating five children. I have supported the PCCHA Youth scholarship program because not all children have the opportunity of education. I believe it is our responsibility to do what we can to support and assist our children to obtain a quality education to help them become productive citizens. I am proud that I have been able to express gratitude for my own good fortune through the support of the PCCHA Youth Foundation and the broader mission of the PCCHA." Since 2005, Fred has been personally responsible for contributing $200,000 to the Youth Scholarship Fund. In fact, Carol Ward and he presented a check for $10,000 at last night's Gala Harvest Event for youth scholarships!
---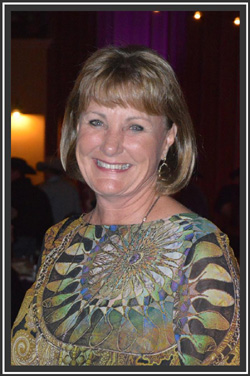 Carol Ward
Carol's commitment and support of the equine industry runs deep and spans for decades. As a child, Carol devoted her time to raising cattle and horses, as well as actively riding the horse show circuit. As an adult she's been directly involved in the race horse industry, hunters & jumpers and the cutting horse world. Carol's commitment to the sport of cutting is evident, by producing the El Rancho Futurity and El Rancho Spring Classic. Carol is philanthropic across the industry, notably with her support of the West Coast Equine Foundation. She shares her passion and love for the sport of cutting by producing the El Rancho Futurity and El Rancho Spring Classic, providing scholarship opportunities through the annual El Rancho Youth Horsemanship Challenge, supporting the PCCHA Scholarship program, supporting Cutters Caring & Sharing fundraising and providing prize money/ fresh cattle for PCCHA events. A tremendous joy for Carol is spending time with family and friends and especially with daughter Erin, granddaughter Hannah, daughter Taylor, grandson Mathew, granddaughter Emma, son Bill and step-daughter Kelly Jo. Carol describes herself as "a widow of 1, a mother of 2 (or more), grandmother of 3, and a lover of many . . . horses, that is!"
---
Congratulations to PCCHA 2012 Hall of Fame Member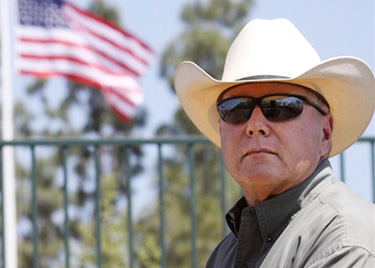 Lance Madgwick
Lance Madgwick has served as Youth Committee Chair and Youth Coordinator 2001-2009. He helped establish the PCYCHA Youth Association to benefit and bring youth members together. Lance served on the Board of Directors as well as multiple committees for 10 years. He served the Presidency in 2010.Lance was the Ed Smith Sportsmanship Memorial recipient in 2004. He has supported his entire family to multiple year-end titles and gave generously of his time as a constant presence in the weekend show pen helping any cutter through their show run. His own Year End titles include: 1997 20k Non Pro -3rd, 2004 10k Novice-Non Pro Reserve Champion and ....2007 50k Amateur -3rd.
---
Congratulations to PCCHA 2011 Hall of Fame Members
Jack Adams
Jack has been active in the Cutting Horse Industry and Pacific Coast since the early 1960's. He served on the PCCHA Board of Directors from 1975 to 1990. During that time he has served on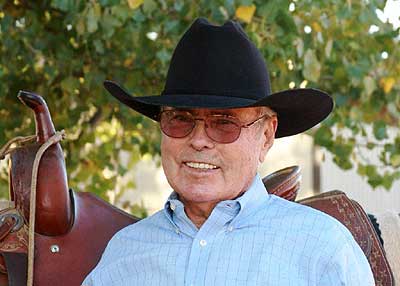 the Executive Committee, Show and Contest Committee, Major Events Committee, Stallion Committee, and Judges Committee.

Jack traces his roots back to Nevada where as a young boy he and his Dad started broncos and cowboyed all around the Elko dessert. He was a horseshoer, drove teams in the hay field, fed cows in the winter, and rode from sun up to sundown. Those incentives were what Jack needed to look at another side of the horse profession, one that would allow him a few more years doing what he loved most – working with horses. The Buckaroo experience and Jack's own affection for horses that no trainer or textbook can impart, are what brought Jack to a lifetime of devotion and dedication to raising, breeding and training some of Pacific Coast's finest horses.

In his late twenties, Jack set up his first training operation in Smith Valley, NV and made his reputation as an excellent all-around trainer. He specialized in reined cow and cutting horses and won several Nevada Reined Cow and Cutting Horse Assc. Year-end championships. Jack moved to California in the early sixties to manage and train at the Dos Rios Ranch in Tracy, CA. At Dos Rios Jack built one of the most successful and highly regarded breeding and training programs on the West Coast with the great stallions Hobby Horse and Commander King. When Dos Rios dispersed, Jack moved to the Dos Pinos Ranch in Davis building that breeding and training program with Ima Freckles Too and Sugar Vandy.

In 1977, Jack and his wife Judy purchased their own ranch – the Sliding J Ranch in Acampo - and for the next thirty years with the support, advice, and love of many loyal customers, friends and family were lucky enough to build a lifetime of fabulous memories in the business they love most . Hesa Commander, Red Dee Hobby, Doc Tom Tucker, Peponita, Mr.Peponita Flo, Doc Bar Gem, Quanah O Lena, Docs Remedy, Peppys Deliverance were a few of the amazing stallions that stood at Sliding J. Riding, and training some of their offspring along with other great horses helped Jack to the finals and winners circle in many PCCHA major events and weekend shows.

Since retiring in 2004 from full time training and breeding to their new ranch in Clements – the Adams Ranch - Jack is still offering his knowledge and experience giving lessons and fine tuning a horse two as time and health allow.

The one award given to Jack that sums up who he is, and one he will honor and cherish forever is the "Dave McGregor Award" from his fellow trainers. It reads "Presented to Jack Adams in honor of a career that has stretched from the cow camps of Nevada to Will Rogers Coliseum. You have been a major force in the training, showing, and breeding many of the Pacific Coast's finest horses. While opening your home you shared your knowledge and skills, helping to guide some of the finest young people in our industry. Thank you from the trainers of the Pacific Coast Cutting Horse Association."
---
Tom deRegt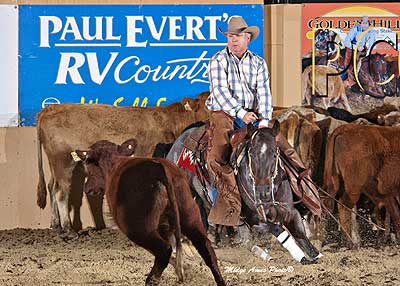 Tom deRegt began riding horses as a Youth Competitor in AQHA, Pacific Coast and in the early years of the California Reined Cow Horse Association. After not riding a horse for 20 years, Tom purchased his first cutting horse in 1996 because Judy felt he needed a "hobby". His hobby soon became a very active part of Tom's life.

Tom is a past member of the PCCHA Board of Directors, Executive Committee, and a Past Director of the NCHA. He was instrumental in the development of the crucial PCCHA Strategic planning Committee, created in 2007. He is a current member of the Finance Committee.

He and his wife, Judy have been Platinum Club members as well as award sponsors and Youth Fund contributors.

Tom was born in San Francisco and raised on the San Francisco Peninsula. He is a graduate of the Business School at Cal Poly, San Luis Obispo where he met his wife, Judy. Judy and Tom live in Carmel Valley, California; have 3 children, Chris, Bryan and Taylor. Chris and Bryan are both graduates of Cal Poly and Taylor is a third year student at Cal Poly.
---
Congratulations to PCCHA 2010 Hall of Fame Members
PCCHA Hall of Fame, by Tara Madgwick
The PCCHA Hall of Fame is designed to recognize and honor those who have contributed and made a positive impact on the cutting industry. This year four people were inducted into the Hall of Fame, including, Rock Hedlund, Frank & Bonnie Martin, and Scott Weis.
Rock Hedlund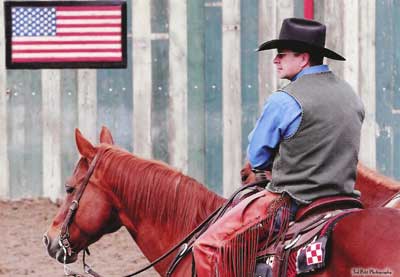 Growing up with cutting horses has made cutting Rock Hedlund's life. Hedlund started cutting at an early age of 14 where he was quickly named the AQHA Youth Cutting World Champion. While he started cutting purely because his parents did not want him riding rough stock, Hedlund has now been training horses for over 30 years.
As a NCHA Hall of Fame rider, Hedlund is a two time NCHA World Champion and Reserve World Champion. He has an excess of 1.5 million dollars in earnings and won numerous PCCHA Year-End Championships.
Hedlund has also been involved with the cutting horse industry outside of the arena. He served at the PCCHA President in 2008, been a PCCHA/NCHA director, and NCHA judge for many years.
Hedlund finds PCCHA to be a very special association, "the special thing about PCCHA is the people, friends, and family that are involved."
Being one of the newest members in the PCCHA Hall of Fame means a great deal to Hedlund, "I am very honored to be inducted to the Hall of Fame. I feel very fortunate to be included in a list of people that have done so much for PCCHA."
---
Frank & Bonnie Martin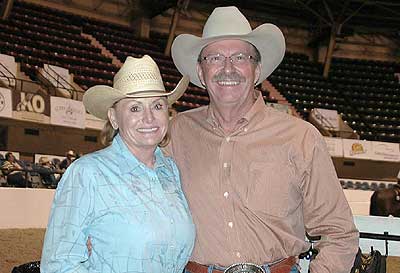 High school sweethearts, Frank and Bonnie Martin, have been riding horses together for a long time. In fact, they met on horseback in the 1960's. Neither one started with cutting horses, but learned how to ride gymkhana then moved on to equitation and halter horses. From there Frank fell in love with cutting horses and Bonnie spent her time on barrel horses.
With both going in different directions the two decided it would be better to pick one sport they could share, so they stuck with cutting. Bonnie remember, "I went with Frank to a cutting and after watching a couple of classes, I said 'I can do that, there isn't much to it.' No running full out at a barrel, slamming to a slowdown and making the turn. Well 35 years later, I am still working on the 'there isn't much to it.'"
Together, the two have had much success in the cutting arena.
Both Frank and Bonnie enjoy being part of the PCCHA and find it to be a unique organization.
Frank says, "For me, PCCHA has always provided the innovators to the industry; they strive all the time to find a place for cutters at every level to compete. Our stallion programs ranging from the Gelding Stakes to the Cutting Stakes were the first in the nation and are still the best in class. NCHA has copied some many programs that began 'on the coast' and then have made a huge success of them in their own right. More importantly over the years, they have remained an association that listens and responds to their membership. Sometimes the new programs don't work and then we have the bright and shining stars such as the 200k Limited Non-Pro and the Seniors class within a class."
Bonnie believes, "PCCHA provides the opportunity to compete for the beginner to the most accomplished rider. This association has provided me with a place to exhibit my horses, make some great friends, & always challenging me to do better."
Being inducted into the Hall of Fame means something different to both Frank and Bonnie.
Frank feels, "I guess it is the part about being recognized by your peers for your contributions - not the money, but the time, dedication and sincere concern that the industry and PCCHA is advanced each year to a higher level."
While Bonnie comments, "what a privilege, to be honored, and acknowledged by your peers for something I have invested most of my life into. I want to say thank you for noticing and thank you for the opportunity to be involved with a sport I have loved and participated in for many years."
---
Scott Weis
After graduating from the Cal Poly-Ag Business program, Scott Weis went on to train cutting horses. He started out breaking colts for a living and started competitively showing in 1983.
Since then he has won every major event in the PCCHA, finalist at every NCHA event and has developed many PCCHA and NCHA World Champions. "I just love cutting horses. There is nothing I would rather do than train a good, young prospect and go out and win," says Weis.
Besides showing cutting horses, he has contributed to the industry by serving as the PCCHA President in the 1990's and is also currently the PCCHA Vice-President on his way to serve as the President once again.
Weis' continuous support of PCCHA comes from his belief that it is a unique and positive association. Weis comments, "PCCHA is special because of its commitment to the membership. It has longevity as an organization and it's constantly putting in effort to evolve and promote the sport of cutting."
To Weis "it is a great honor to be recognized by your peers in any endeavor you undertake. It is a great honor to be included with all the past recipients and I am very grateful."
---