Latest News!
JOIN US AT THE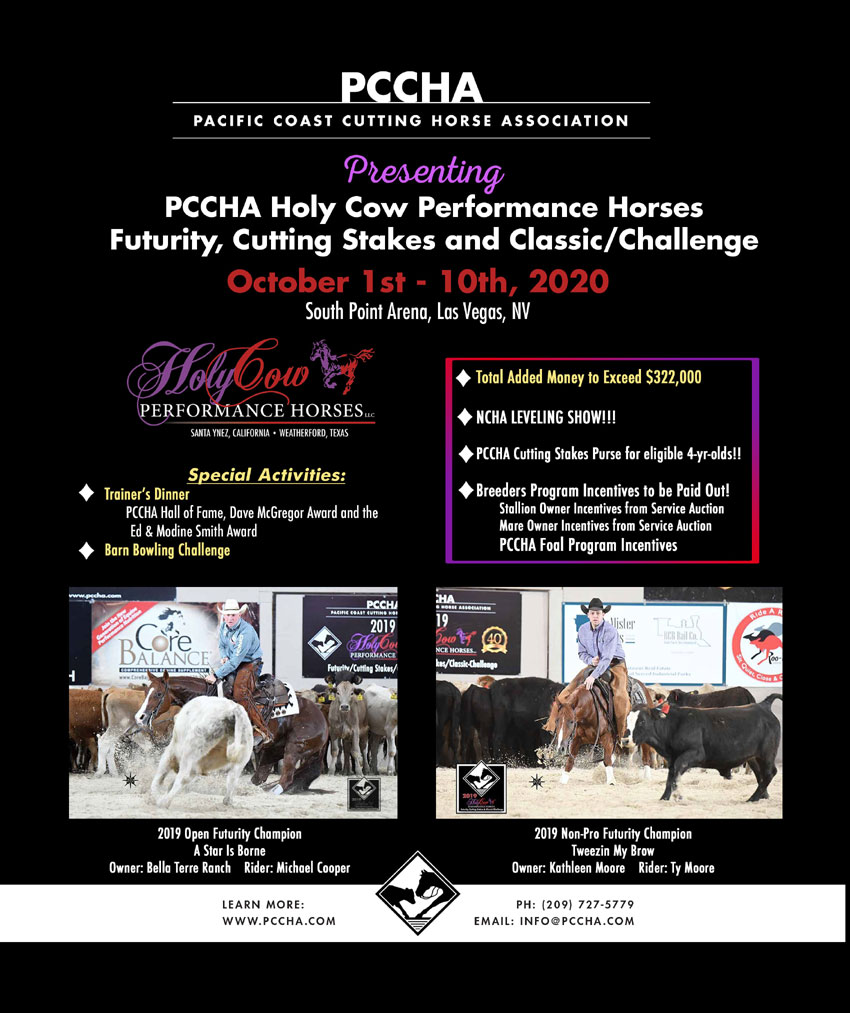 CONFIRMATIONS:
FORMS:
INCENTIVES:
Mare Incentive Information:
Futurity pay backs to the mare owner of the highest advancing foal in the Open Futurity ($3,000), Non Pro Futurity ($2,000), and Unlimited Amateur ($1,000) resulting from a breeding purchased in the PCCHA Stallion Service Auction of the breeding year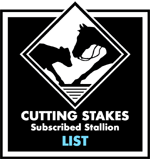 Click here to see if your 4 year old is sired by a PCCHA Subscribed Stallion for this year's Cutting Stakes!
____________________________________
NOTE TO ALL PARTICIPANTS - PLEASE READ
Hello All! So happy you are choosing to join us for the 2020 Holy Cow Performance Horses - PCCHA Futurity, Cutting Stakes and Classic/Challenge. As with everything today there are significant changes that we need to be aware of when arriving and visiting the South Point. Most noteably everyone involved with our cutting MUST wear a wristband. You can receive these in the stall area when checking in...everyone in your party must sign the Covid Release and acknowledgement of the rules. If you don't check in through the stalls please make your way up to the show office prior to walking around. You will not be allowed in the stall area, arenas or practice pens without the wristband.
Another significant note is the restauarants are operating at 50% so if you would like dinner reservations please call well ahead of time (now is not too early!) This can help insure that you are able to enjoy the amenities of the South Point Casino, Restaurants and Spa without much interruption.
Of course face coverings will be required throughout the casino, hotel and grounds. The only exception is if you are on horseback. Even then you need to maintain some social distancing. These are crutial as the Casinos have regular state inspectors touring the properties daily. Please take a minute to click on and read the COVID PROTOCOLS so there are no surprises upon your arrival. If you have any questions please reach out to the PCCHA office and/or show staff.
Thank you again and we are so excited to see everyone!
---

---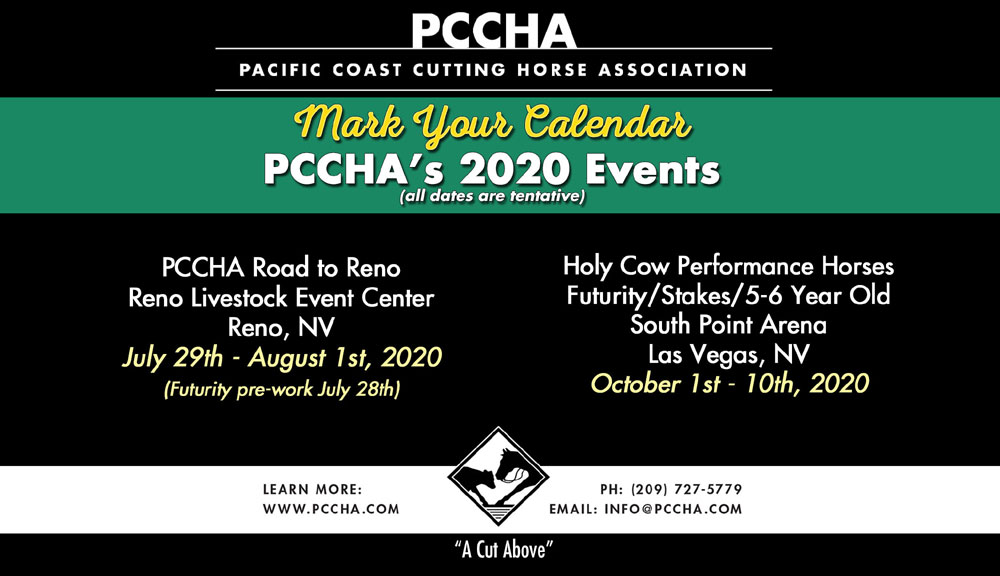 ---
PCCHA Introduces our New Regional Finals Program
Click here for the link to see our great information video
---
Headlines
NEW!
The PCCHA Online Store
---
Listing of PCCHA Subscribed Stallions
BET HESA CAT, CATS FULL MOON, CATS GOTTA DIAMOND, CATS MERADA, CD DIAMOND, CD LIGHTS, CD ROYAL, DUAL R SMOKIN, DUAL REY, DUAL SMART REY, FLO RIDER, FORTUNE BEND, GUNNATRASHYA, HALREYCIOUS, HIGH BROW CAT, HIGH BROW CD, HIGH BROW JACKSON, HOTTISH, HYDRIVE CAT, IM COUNTIN CHECKS, KIT KAT SUGAR, LIL CATBALOO, METALIC AL, METALLIC CAT, MYLANTA LENA, ONE TIME PEPTO, ONE TIME ROYALTY, PEPTOS STYLISH OAK, RASCAL CATS, ROCKIN W, SDP JOKER, SHALIKOS SITTINGBULL, SMART STEADY DATE, SMOOTH AS A CAT, SPOTS HOT, STUNNED, THAT SLY CAT, THIRD CUTTING, THOMAS E HUGHES, TOMCAT CHEX, TR DUAL REY, WBR TWICE AS NICE, WILDS MY THING, WOODY BE TUFF, WR THIS CATS SMART
---
Renew or Purchase Membership Online!
---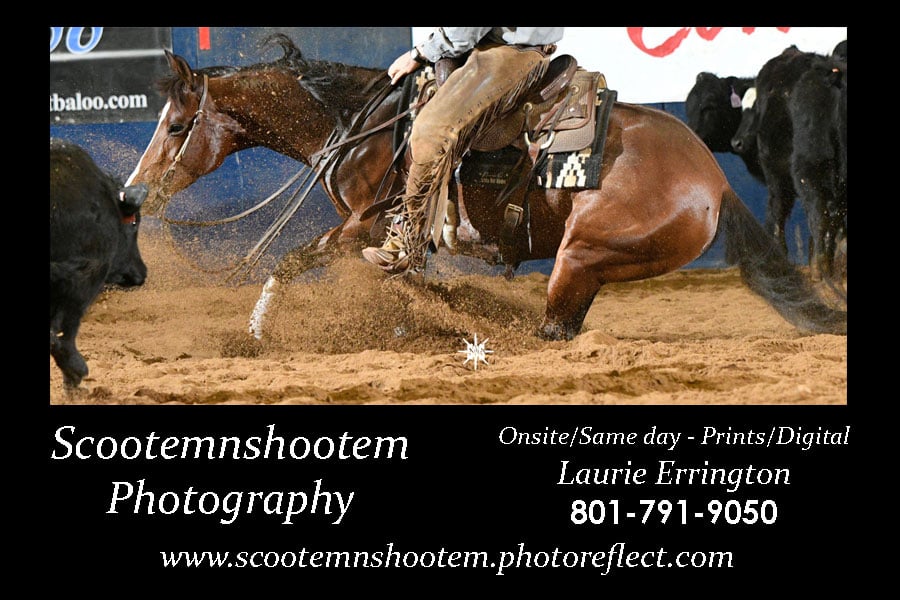 ---
Latest and Greatest News
Current Standings :
8/20/2020
Please check with Debbie - dmcgregor@pccha.com and make sure you hold a current membership. You could be in the standings and not be a current member. FRIENDLY REMINDER! NM (Non Member) by your name means you need to call the office and renew your membership! March 1st is the end of the membership grace period. Thank you!
---
Credit Card Authorization Form
---
---
September Issue of the Pacific Coast Journal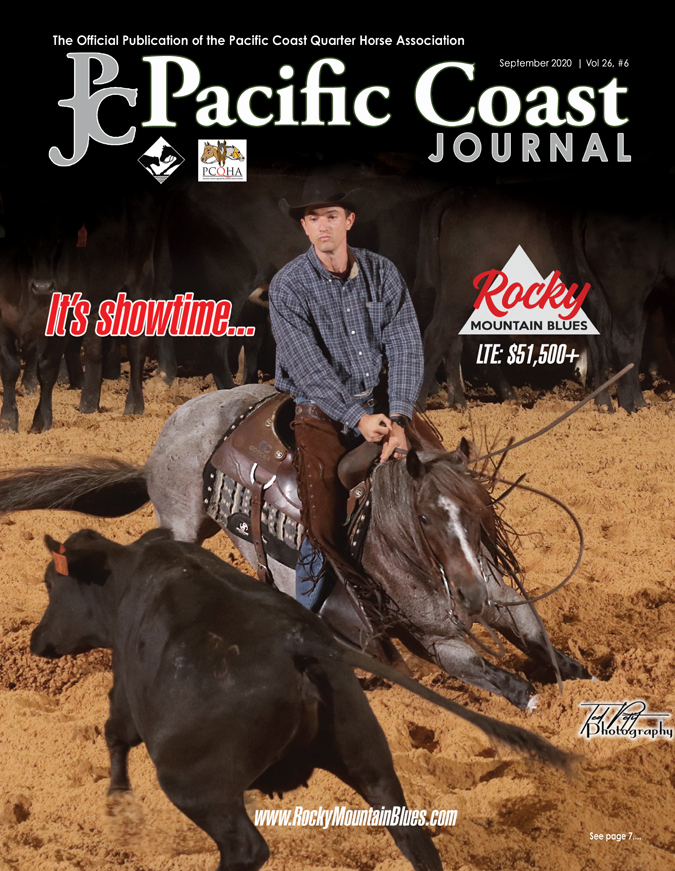 ---

Automatic PCCHA Updates via Text Message
To receive text message updates regarding payment deadlines, show info, etc.
Text PCCHA to 31279
---
PCCHA TV
McAlister Assets & RCR Rail Co.
PCCHA Cutting On The Coast